Hey guys,
I got an email from Juergen the other day about another bush flight we can do some time. This one is up in the beautiful state of Alaska.
He suggested two flights amongst mountains. But I was thinking of expanding that selection a little more with up to 8 flights. But I have to test them out first because one runway is only 900 feet. So I am not sure if all of these airports are wise or even in Flight Sim.
It is a long flight and maybe it can be broken down into multiple flight nights. It could take 3-4 hours.
Here is the map with the route on it.
The
GREEN
markers are the airports involved.
And the
ORANGE
lines are the routes.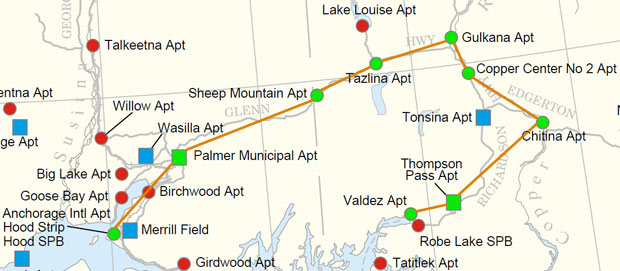 Click image to enlarge:

-
-

And here is some info on the airports:
Valdez - PAVD
Paved - 6500ft - IFR
-=(16 nm)=-
Thompson Pass - K55
Dirt - 2500ft - VFR
-=(44 nm)=-
Chitina - CXC
Gravel - 2800ft - VFR
-=(33 nm)=-
Copper Center - Z93
Gravel - 2200ft - VFR
-=(14 nm)=-
Gulkana - PAGK
Paved - 5000ft - IFR
-=(29 nm)=-
Tazlina - Z14
Gravel - 900ft - VFR
-=(33 nm)=-
Sheep Mountain - PASP
Gravel - 2200ft - VFR
-=(47 nm)=-
Palmer - PAAQ
Gravel - 1800ft - VFR
-=(36 nm)=-
Anchorage Intl - PANC
Paved - 11500ft - IFR
What do you think

Last edited by VAL640 on March 5th 2010, 10:45 pm; edited 6 times in total